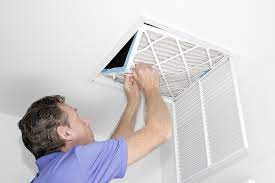 When is the best time to have your air ducts cleaned?
For a heating and cooling system to work efficiently, proper airflow is needed. This is where the role of experts in air duct cleaning in Ashburn VA becomes crucial. Because air ducts help air circulate throughout your home, they need to be cleaned periodically.
According to the National Air Duct Cleaners Association, cleaning should be done every three to five years. Though this is the general rule of thumb, the frequency is still dependent on several factors (e.g., household lifestyle, humidity of your location).
Now, the question is: When is the best time to clean air ducts? Typically, the ideal time to do air duct cleaning in Ashburn VA is during spring and fall. And each season has its own advantages.
Cleaning Air Ducts in Spring
If you do the cleaning during springtime, you'll be efficient because, in the process, you'll be able to get rid of the notorious winter dust accumulation. The winter season prompts more people (and pets) to spend more time indoors, which means more indoor activities are taking place. These produce more microscopic debris than usual — debris that can easily make its way to tricky spaces in the house, including air ducts.
Another reason is to combat allergies that typically arrive during this time of the year. If your indoor air carries pollutants and other pathogens, it can aggravate your spring allergy symptoms.
Cleaning Air Ducts in Fall
Other homeowners opt to do air duct cleaning in Ashburn VA during the fall. Knowing that it's a season where people stay at home due to dropping temperatures, many grab the opportunity to make their places safer and more comfortable to live in.
By cleaning your air ducts, you're helping your HVAC system keep its peak performance. Therefore, you'll get that much-needed warmth during this season without worrying about too-high energy bills.
You'll also be able to address mold accumulation. The summer season generally means more humidity. During this time, mold can grow and thrive in cold, damp places in your home like your ducts. When not addressed, too much mold buildup becomes a health risk to you and your loved ones. If you're exposed to mold spores, it can lead to respiratory and cognitive issues. To make sure that your duct is mold-free before winter arrives, fall duct cleaning is essential.
When You Shouldn't Wait
No matter the time of the year, you shouldn't wait before cleaning your air ducts if there's visible mold near your air ducts already. Though humidity is higher and mold growth is more prevalent in summer, it doesn't mean that these microorganisms won't invade your home in other months.
You also have to call cleaning professionals immediately if there's pest infestation in your home — and the pests are coming from your air ducts. A particular skill set and proper tools are needed to eradicate these unwanted guests and prevent them from bugging you again in the future.
Urgent help from air duct cleaning pros is also needed if you or your loved ones are exhibiting strong allergy-like symptoms for no apparent reason. It's highly likely that the cause is poor air quality, which may be attributed to unclean air ducts.
JCS Home Services is the go-to team when it comes to air duct cleaning in Ashburn VA. Contact us today to learn more about how we can help you or to book an appointment.